10,000 people have been forced to evacuate after a new wildfire broke out in southern France
Paris,July26:At least 10,000 people have been forced to evacuate after a new wildfire broke out in southern France, which was already battling massive blazes that have consumed swaths of forest, authorities have said.
The latest fire came a day after France asked for help from the rest of Europe to tackle the flames already raging in the tinder-dry south, including near the popular resort of Saint-Tropez.
"The evacuations, at least 10,000, followed the progression of the fire. It's an area that doubles or triples its population in summer," said a fire service official on Wednesday of the blaze near Bormes-les-Mimosas on the Mediterranean coast.
The number of people on France's Côte d'Azur swells in July and August as holidaymakers head to the beach, though the area is experiencing an exceptionally hot, dry summer that has made it especially vulnerable to fires.
On Tuesday, more than 4,000 firefighters and troops backed by 19 water-bombers had already been mobilised to extinguish the flames, which have left swaths of charred earth in their wake. At least 12 firefighters have been injured and 15 police officers affected by smoke inhalation since the fires broke out on Monday, according to the authorities.
The blazes on Tuesday had devoured about 4,000 hectares (15 square miles) of land along the Mediterranean coast, in the mountainous interior and on the island of Corsica.
With strong winds and dry brush creating a dangerous mix, the government asked its European Union partners to send two extra firefighting planes – a request immediately fulfilled by Italy, according to the EU. But one union official denounced what he said was a lack of spare parts preventing all the aircraft required from being put into action.
Gerard Collomb, interior minister, announced on Tuesday that France would be adding six more firefighting planes to its fleet, during a visit to Corsica.
A fire in La Croix-Valmer near Saint-Tropez, a resort frequented by the rich and famous, had been contained, said local fire chief, Philippe Gambe de Vergnes, on Tuesday.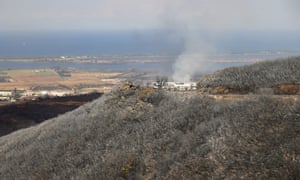 The blaze had already consumed 400 hectares of coastal forest in an area dotted with homes, he said. More than 200 people had to be moved from the area.