More than 900 flee as battle for Mosul starts raging in Iraq
Baghdad,Oct19:This is the first large group of civilians confirmed to have escaped since the Iraqi government began its offensive to liberate Mosul from the so-called Islamic State (IS) on Monday.Iraqi civilians flee as the battle for Mosul starts in IS occupied Iraq
As many as 1.5 million are thought to be in Mosul, with up to 5,000 fighters.
There are fears the militants will use the civilians as human shields as Iraqi forces get closer to Mosul.
But the people of Mosul have largely been cut off from the world since the militant group seized the city in June 2014 — mobile phones are banned and being seen with one can result in medieval-style punishment.
Many are scared to stay as the offensive nears the city, but they are equally scared to run, with no clear safe way out.More than 1 million residents still trapped in Mosul.
A spokeswoman for the Office of UN High Commissioner for Refugees (UNHCR) said that more than 900 people from Mosul had crossed the border into Syria and were now at a refugee camp.
She said it was likely the agency would use the camp as a staging-post before moving back across the border to a safe location in Iraq, the BBC's Richard Galpin reports.
The movement of a significant number of people indicates that IS militants are not able to stop everyone leaving, our correspondent notes.
It will also raise questions about whether some fighters might try to use the same route to flee, he adds.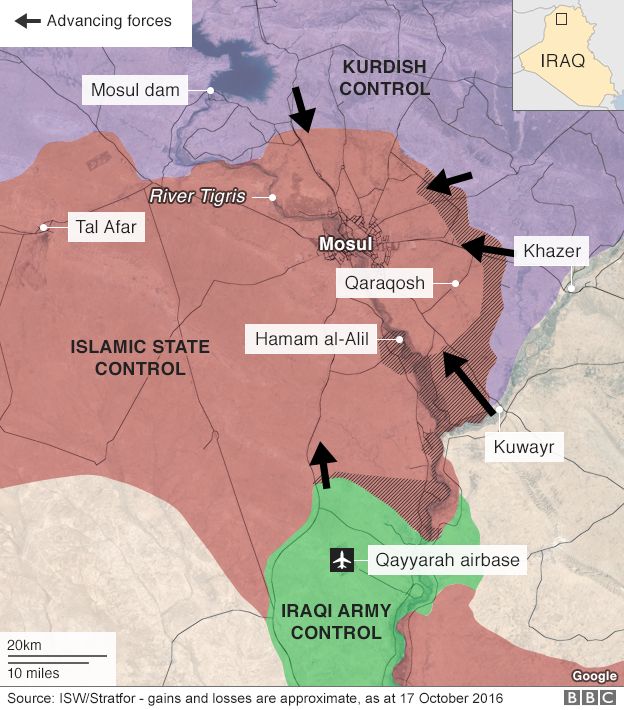 In the US, Pentagon spokesman Navy Captain Jeff Davis warned on Tuesday that the IS would use civilians as human shields.
And the International Organization for Migration fears IS might even use chemical weapons.
Residents reached by telephone by Reuters news agency said IS was preventing people fleeing the city and had directed some of them towards buildings likely to be targeted by air strikes.
 Battle for Mosul
Of the 700,000 estimated population left,3,000-5,000 estimated number of fighters from Islamic State group ,25,000 troops expected to take part
"If we aren't successful in helping ordinary people as they're fleeing Isil (IS), then that makes us vulnerable to seeing Isil return," he told reporters in Washington.
The UN is working to create new refugee sites outside Mosul.
Lise Grande, the UN's humanitarian co-ordinator for Iraq, said the organisation was working on the assumption that as many as 200,000 people might need shelter in the first days and weeks of the operation.