Blast at kindergarten school entrance in Feng city in the eastern Chinese province of Jiangsu ,many injured
Beijing, June15:A blast was reported at a kindergarten in a city in the eastern Chinese province of Jiangsu, with at least a dozen people believed to be injured.
#Update: Multiple wounded, including children, in kindergarten #explosion in E. China's Jiangsu; Investigation is underway pic.twitter.com/GpcbLpyvW0

— People's Daily,China (@PDChina) June 15, 2017
It was not immediately clear what caused the blast, which came as parents were picking up children from school.
Pictures and videos posted online showed at least a dozen people lying outside the gate of a kindergarten. Some victims were seen covered in blood while other appeared to be unconscious and some even with their clothes burned off.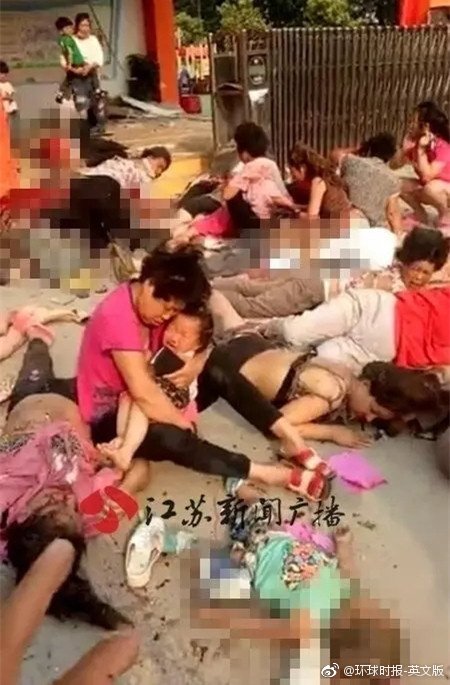 Young children could be seen among the injured.
"About 5pm, we heard a blast and thought it might have been a gas explosion at a nearby food vendor," a local shop owner was quoted as saying by online news portal Sohu. "Many people could be dead," the witness said.
#BREAKING: #Explosion rocks kindergarten in East China's Jiangsu Province, casualty yet unknown pic.twitter.com/KBlXBDujDq

— People's Daily,China (@PDChina) June 15, 2017
In one video clip posted online, a man covered in blood can be seen trying to stand up only to collapse again. His clothes appeared to have been burned off.
Witnesses told Xinhua there were casualties but it was unclear how many were injured.
In a separate video clip, people could be heard shouting: "Blast, blast, dial 110 quickly!".
The gate of the kindergarten appeared to have been horribly bent, with shattered glass littering the scene.