Britain officially recognised Parkour as a sport
London, Jan 11: Britain has become the first country officially to recognise Parkour as a sport after approval by the four Home Country Sports Councils was confirmed today.
"This is brilliant recognition for a discipline that started off as child's play with my friends almost 30 years ago," said Sebastien Foucan, the president of Parkour UK, in a statement.
Parkour includes running, climbing, swinging, vaulting, jumping, rolling, quadrupedal movement, and other movements as deemed most suitable for the situation.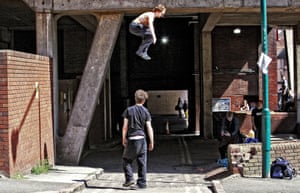 Parkour's development from military training gives it some aspects of a non-combative martial art.
Parkour is an activity that can be practised alone or with others and is usually—but not exclusively—carried out in urban spaces