Bum-Erdene Tuvshinjargal ,Mongolian female Sumo wrestler challenges tradition and stereotype in this male dominated sport
Ulaanbaatar,August1:Mongolian wrestlers have dominated the Japanese sumo scene for years and Bum-Erdene Tuvshinjargal is keen to follow in their footsteps. As a girl, that means challenging centuries of tradition, but that's another fight she's ready to take on. She spoke to journalist Erin Craig at her home in Ulan Bator.
On one side of the ring squats a formidable, heavyset wrestler, the traditional mawashi wound around his waist. On the other is Bum-Erdene Tuvshinjargal, her loincloth wrapped over black spandex.
The competitors wait, stare, then cannon toward each other. They hit in the centre, straining in a slow dance of raw power.
Then Tuvshinjargal explodes forward, muscling her opponent out of the ring.
She gives a rare, brief smile as she walks off the mat.
"You can't be scared," says the 17 year old sumo world champion. "If you're scared you won't win."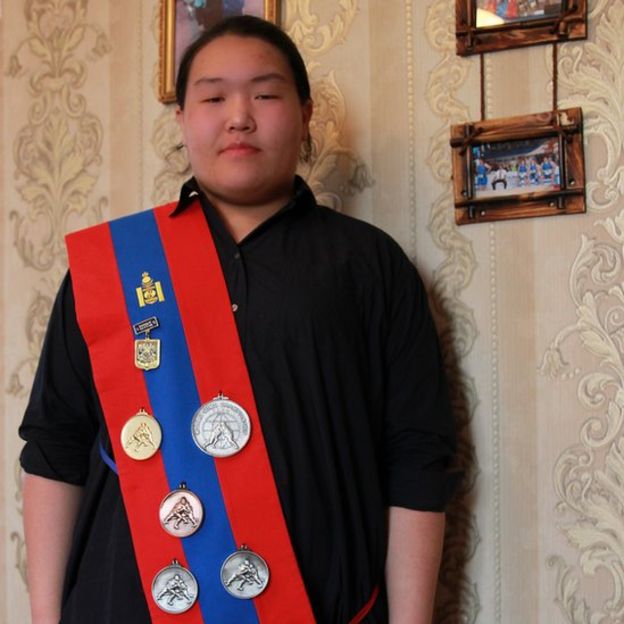 As a child, Tuvshinjargal watched sumo on TV with her grandparents, never dreaming she would be a wrestler herself. She later took up judo, and in 2015 her instructor suggested trying sumo at a competition the following month.
That competition turned out to be the Junior Sumo World Championships. Tuvshinjargal came home with a bronze medal. Last year she went back for the gold.
Her coach, Gankhyag Naranbat, thinks this is just the beginning. As a former rikishi – a professional sumo wrestler – and World Games gold medallist, he knows what to look for in a competitor.
"I think she will be more than three times world champion, heavyweight category," he predicts. That would break a world record – one established only last year by Tuvshinjargal's teammate, Khishigdorj Sunjidmaa.
Pushing the rice paper ceiling
But no matter how many records she breaks, Tuvshinjargal's career is approaching the rice paper ceiling. In sumo, only men can go pro.
Professional sumo is only practiced in Japan where rikishi participate in six annual Grand Tournaments. Sumo began as a religious ceremony and the sport remains deeply ritualistic. Tradition forbids women even entering the ring.