Case against Oommen Chandy, Thiruvanjoor over Solar scam: OC challenges Pinarayi to publish Commission report
Thiruvananthapuram, October 11: Former Chief Minister Oommen Chandy on Wednesday asked the Kerala Government to publish the Solar Commission Report. "As the first move, the government shall publish the Solar Commission report. Neither me or UDF or Congress is afraid of it. Will legally move against the government action, said Oommen Chandy in Thrissur on Wednesday.
He further added that Congress will not deal it through protests. Not afraid of anything as not guilty. Nothing could make me weak. The Solar commission had conducted long hours of sitting. All the questions of the commission were answered. No witness had given any statement against me. The reference is only in the so-called letter written by the Prime accused Saritha S Nair. A case was also registered against this letter, he said.
Oommen Chandy said this as the Kerala government had decided to initiate an investigation under the Vigilance and Anti-Corruption Bureau in the solar scam case on the basis of the letter written by the prime accused Saritha. It was informed that cases would be filed against all those who were referred to in the letter of Saritha.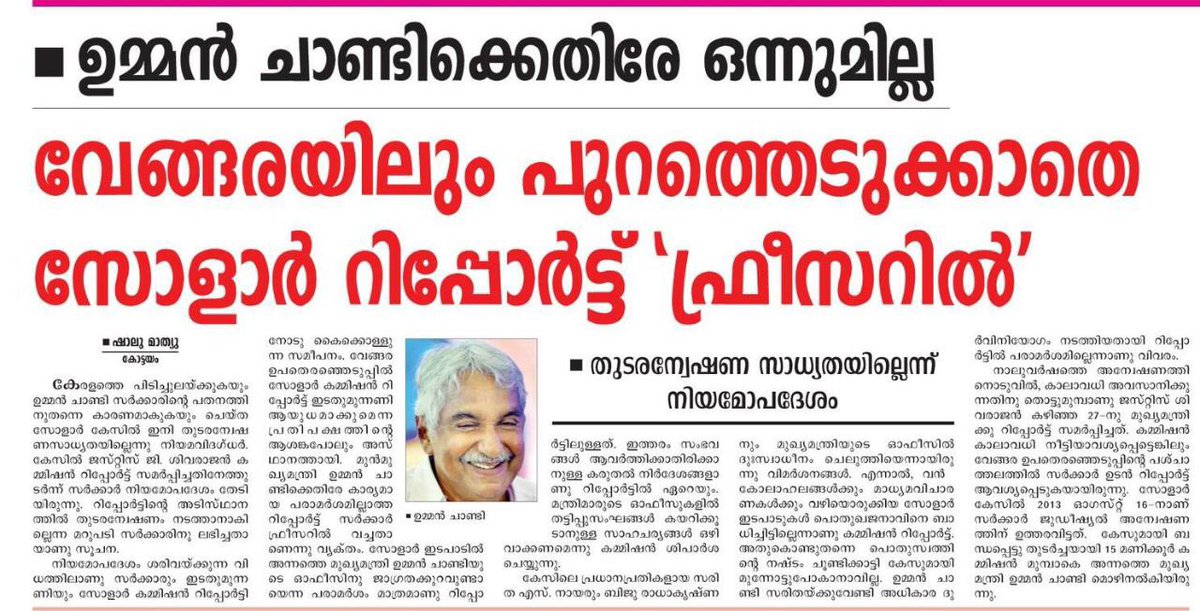 Twitter Image.
The Kerala Chief minister Pinarayi Vijayan announced in a press meet after revealing the findings of the Justice (retd) Sivarajan Commission that investigated the scam. Pinarayi said in the press meet that the commission after its investigation found that former Chief Minister Oommen Chandy and his staff members are involved in the scam. The staff namely, Jikkumon Jacob, Salim Raj, Tenny Joppen and a friend Kuruvila, based at Delhi had aided the prime accused Saritha S. Nair and Biju Radhakrishnan and their company Team Solar to cheat people.
Pinarayi said that a criminal case would be registered against former Chief Minister Oommen Chandy and home minister Thiruvanchoor Radhakrishnan. The commission had found that Thiruvanchoor helped Oommen Chandy escape from the case in his capacity as the home minister.
Congress leader Joseph Vazhackan said that the move is politically motivated. He said the allegations against Oommen Chandy and others would not stand legal scrutiny.
On 7th October 2017, a Bengaluru court had acquitted former Kerala chief minister Oommen Chandy in the solar scam-related case. The City Civil Court acquitted Mr Chandy, who was the fifth accused in the cheating case filed by a Bengaluru businessman in connection with the scam, for lack of proof and witnesses in the case.
CM Pinarayi's announcement of the investigation against the Congress leaders coincides with the polling for the Vengara assembly by-poll. While the chief minister did not comment on it.