Daughter of college professor from Pakistan asks PM Modi for peace between two countries
New Delhi,March15: At a time of when India-Pakistan relations are in a historic low, an 11-year-old Pakistani girl's impassioned appeal for peace to Prime Minister Narendra Modi has won many hearts on both sides f the border.
Aqeedat Naveed, daughter of an assistant professor in National College of Arts (NCA), Lahore, has previously written to several Indian leaders including Bihar Chief Minsiter Nitish Kumar and External Affairs Minister Sushma Swaraj among others on a variety of subjects.
 The latest letter, dated March 13, seeks both countries to spend less on bullets and more on books and medicines.
Congratulating Modi for the landslide victory in Uttar Pradesh, she writes, "If you want to win more Indian and Pakistani hearts, you should take a step towards friendship and peace. Choice is ours, peace or conflict."
"Both countries should resolve that they will not buy guns, but will provide free medicines to hundreds of thousands of ailing people of both the nations," she added.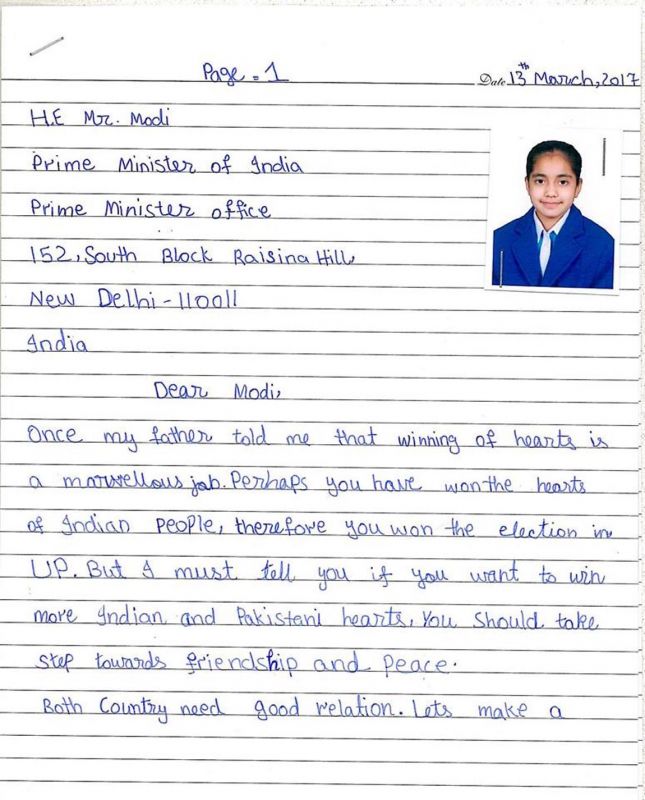 Aqeedat and her brother Moarikh are prominent in Pakistan for writing to national and international leaders about pressing issues.
Recently, in another letter, the brother-sister duo wrote to their country's army chief Qamar Javed Bajwa congratulating him for Pakistan's new anti-terror operation 'Radd-ul-Fasaad'. They have also taken up the cause of Sikhs in Khyber-Pakhtunkhwa in another letter with Prime Minister Nawaz Shariff.
Speaking to Hindustan Times, the siblings expressed hope that someday, they would be able to travel to India as tourists without any hindrance, and hoped that Indian citizens would be able to do the same in Pakistan.
A class 8 student, it was Moarrikh's idea to start with the letters. "I took this idea from my syllabus and started writing letters for peace," he said.
Their father proudly claimed that the kids, who have written to Modi previously as well, had received a greeting card from Modi and 2016 Nobel peace prize winner Juan Manuel Santos in the past.