Facebook user Pablo Reyes fooled 2 lakh people with his 'edited predictions'
New York, June 16: It is almost unbelievable that this guy predicted everything that is happening in the US right now.  Facebook user Pablo Reyes claims in his edited predictions, Boxer Muhammad Ali's death, Prince's demise and even the mass shooting. If you cannot believe this, you must believe in his ability to fool others who are on Facebook.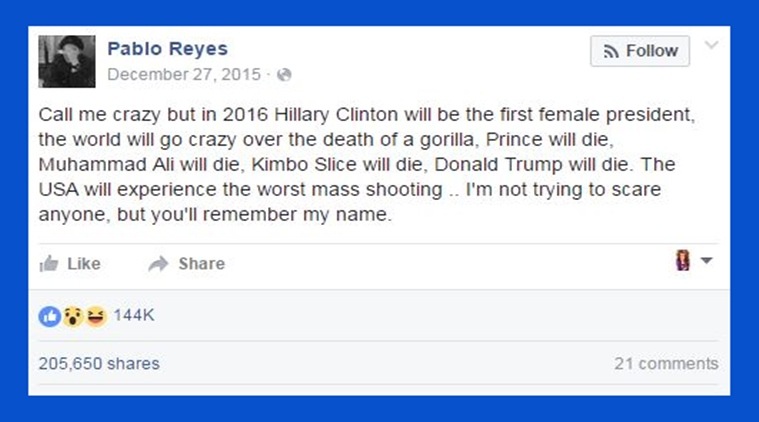 Facebook user Pablo Reyes shot to fame on social media when his Facebook post from December 2015 went viral. The post 'predicted' the future stating most big events that have taken place in the country.
"Call me crazy but in 2016 Hillary Clinton will be the first female president, the world will go crazy over the death of a gorilla, Prince will die, Muhammad Ali will die, Kimbo Slice will die, Donald Trump will die. The USA will experience the worst mass shooting .. I'm not trying to scare anyone, but you'll remember my name," reads his post from December 27, 2015.

The Internet is going crazy sharing his status; with over 200,000 shares already, and the number's increasing by the minute. People are shocked at this 'accurate prediction' of world affairs.