Gali Janardhan Reddy's daughter's wedding invitation comes in a box with auto-play LCD 
Bengaluru, October 19: Former Karnataka minister Gali Janardhan Reddy, is one of the richest persons in India who stashed a lot money through illegal mining.
He is currently on a conditional bail after spending three years in jail in connection with the illegal mining case.
Reddy's daughter Bramhani's wedding is in November. The engagement ceremony took place in a grand style in Bengaluru.
The marriage invitation, which comes in a box, has stunned who ever happened to see it.  It looks like Gali Janardhan Reddy is extravagantly spending money to make the event a grand wedding.
When the box is opened, a little LCD screen comes alive with music along with announcements on the marriage, "Bramhani Weds Rajeev Reddy". Following "Atithi Devobhava (guest is like God)," Mr Reddy sings – or lip syncs – along with his wife and son. The auto play video is about one minute featuring Gali and his family along with the groom-to-be Rajeev Reddy. The one-minute video ends with a close-up of the family as the date and venue are announced.
Then bride and groom are introduced and everyone sings the song. The bride is dressed in a lehenga and the groom is wearing white stallions.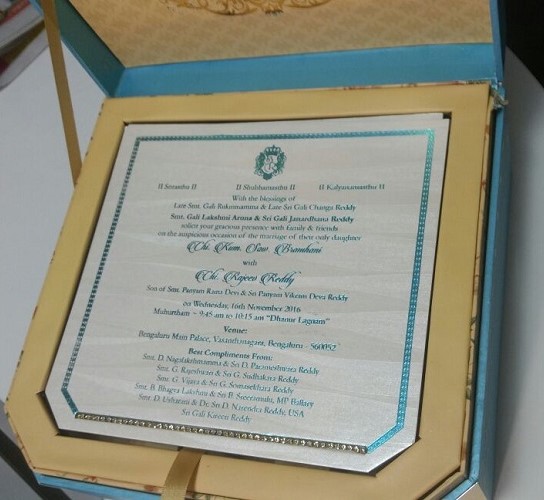 The marriage, which would take place in November, is going to be a star-studded event. Many popular figures from the political spectrum and the film industry are going to attend the grand event.
The mining minister is sending rich 'Boxed Invitations' to the prominent personalities in various fields. Some of the top league actors from the Bollywood are expected to be performing in the event.
He and his older brother G Karunakara Reddy were ministers in the BJP government headed by BS Yeddyurappa till July 2011. Months later, Mr Reddy was arrested by the CBI.