LIVE | Assembly election results 2017: BJP looks a clear sweep in UP, Congress expecting a big win in Punjab
New Delhi, March 11: Counting of votes across the five states of Uttar Pradesh, Punjab, Goa, Uttarakhand and Manipur began at 8 a.m. this morning.
Heavy security is maintained in places of vote counting.
The Election Commission has earlier issued certain guidelines on security arrangements for counting of votes. The EC has also set up facilities for disseminating trends and results of elections of five assemblies.
In Uttar Pradesh, counting will take place in 78 centres across 75 districts.
The Chief Electoral officer reviewed preparations for counting of votes through video conferencing.
In Uttarakhand, counting of votes will be held at 15 centres across the state.
To avoid any controversy, the counting process will be video-graphed, while in Manipur, the counting of votes for 60-member Assembly will be taken up at eleven centres.
Meanwhile, in Punjab, 14,000 officials have been deployed for smooth conduct of counting and it will be held at 54 counting centres at 27 locations, and in Goa, counting for 19 North Goa constituencies will be held at Panaji and for 21 south Goa constituencies in Madgaon city.
Election Live Updates:
12: 15 Kejriwal lost in Punjab because of his wrong intentions: Sidhu
We will have to raise Punjab with policy… People expect that we will push Punjab on the path of progress… Kejriwal lost because his intentions were wrong. The AAP wooed and then shooed away former BJP leader Navjot Singh Sidhu who took away with him MLAs Navjot Kaur and Pargat Singh.
12:12 Navjot Sidhu, Congress, on Punjab results
This is the demise of the arrogant leaders of the Akali Dal
12:10
We have surpasses even the Ram wave: Ravi Shankar Prasad, BJP
12:08
The Aam Aadmi Party said it was disappointed it did not win the Punjab assembly election but added that even becoming the main opposition was an achievement."We were hoping to form a government in Punjab," Aam Aadmi Party leader Ashutosh said. "We are disappointed with the result," he said, as vote-count showed the Congress sweeping to victory in assembly election."But for a new party (in the state) even coming at the second place is also a big thing," Ashutosh added. "Don't underestimate this."He said all the AAP leaders needed to introspect where the party's assessment of taking power in the border state with more than 100 of the 117 seats went wrong.
12:05  BJP's Wall of Victory:
BJP leader Vijay Goel puts up a Wall of Victory outside his Delhi residence. "Wall of Victory" outside my residence 10, Ashoka Rd. Do join & write your message for PM #Modi & we will share it with him #ElectionResults."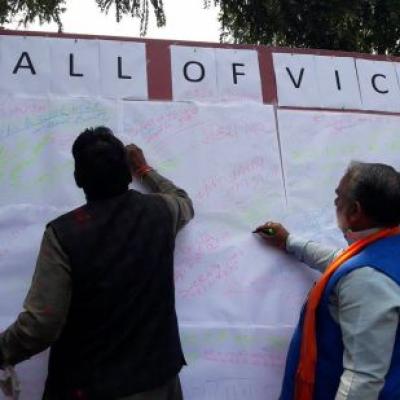 12:01
Rahul Gandhi cannot step down: Digvijaya Singh
Senior Congress leader Digvijaya Singh, speaking with ANI, said, "Rahul Gandhi cannot step down. Nehru-Gandhi family is the biggest binding factor for Congress."
11:59
Punjab: Sitting Akali minister Tota Singh, who is at the centre of Rs 39 crore cotton crop scam, trailing by 22,000 votes
11:58
Harish Rawat loses in Haridwar (Rural)
Harish Rawat loses in Haridwar (Rural), a BJP bastion. Charges of the corruption and autocratic working style against Rawat were the issues raised by the BJP in the two-month long campaign in Uttarakhand.
11: 54 Who will be UP CM? Amit Shah will pull rabbit from hat, says Chandan Mitra
A saffron holi likely in Uttar Pradesh as trends put BJP in power with a massive lead. Samajwadi Party-Congress experiment fails to deliver the political punch in the heartland state.
Union minister Piyush Goyal speaking to ANI says, " The nation is standing with PM Modi. This is the victory of people of UP and Uttarakhand.
Ravi Shankar Prasadsaysm the result is a tectonic shift in the country's politics.
Jitender Singh MoS, PMO:  The youth of the country has come of age. People have only voted for development in Uttar Pradesh, they have moved ahead of caste, religious  lines. The most important contribution of Modi  phenomenon is that it has enabled voters to cast votes for development, going beyond castes, creeds, religions. It has helped them get rid of feudal mindset."
BJP's Chandan Mitra on who will be UP Chief Minister tells NDTV: "Except the top leaders, no one knows who will be UP chief minister. Amit Shah will pull out a rabbit from the hat," he says.
Union minister Sanjiv Balyan said there was division on communal lines in UP. "The election was fought on issues such as law and order, development. The new generation understood the importance of bringing in the BJP," he said.
BJP MP from Gorakhpur Adityanath said the SP-Congress alliance and the BSP have been totally rejected by the people in UP. People want development without bias. They want security which the BJP can only provide," he said.
Trends so far in the state: BJP 293 SP 16  BSP 17  CONG 11 OTHERS 22
11:52  Irom Sharmila gets just 51 votes: 
Clearly, activism is one thing, politics quite another.
In Manipur, aspiring chief minister and rights activist Irom Sharmila got just 51 votes. She contested from the Thoubal constituency against three time CM Okram Ibobi Singh. Sharmila said yesterday that muscle,  money power is being openly used by parties.
11:48
Early trends from Uttarakhand: BJP leading in 54 seats, Congress in 14
11: 46
Nation stands with PM Modi, says Piyush Goyal
Union minister Piyush Goyal says: "Today nation is standing with PM Modi. This is the victory of people of UP and Uttarakhand." Staking his personal reputation, Modi unleashed a high-octane campaign in Uttar Pradesh, where the BJP last ruled in 2002. He held 23 public rallies and two road shows in about a month.
11:43
Expressing happiness over the early trends that indicate the Bharatiya Janata Party (BJP) leading in the fray in the Uttar Pradesh elections, the saffron party said the people of the state have voted for the good work not for the politics of caste and corruption.
11.41
News 18 gives BJP a lead in 309 seats, writes-off BSP at a mere 21
According to CNN-News 18 report the BJP is ahead in 309, while the SP-Congress alliance is at 65. mayawati's BSP is trailing far behind at just 23 seats where it is ahead of others.
11:40
BJP's lead increases to 8,000 at Rohania in Varanasi
11:38
Punjab: Akali Dal supremo Sukhbir Badal leading way ahead of AAP's run machine Bhagwant Mann by over 10,000 plus votes.
11:36
Goa Chief Minister Laxmikant Parsekar loses.
11:35
As UP results indicate a stable trend, political bickering goes askew
With the BJP maintaining a massive lead, political bickering has started around the recent trends. While BJP's Rajyavardhan Singh Rathore took a dig at the Congress party stating that the party's hands are blackened from corruption. Congress party on the other hand has said that the mandate is a loss for the agenda of development.
11:34
BJP extends lead to over 300 seats in UP
11:32 AAP CM candidate for Goa Elvis Gomes currently at a third position in Cuncolim, Congress first, Independent second.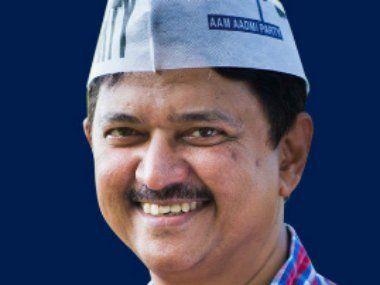 11:28
Meanwhile… according to the official data BJP leads in 295 seats
Amid differing figures from various news channels, here are the official figures by the Election Commission.
| | |
| --- | --- |
| | Leading |
| BJP | 295 |
| SP + Congress | 69 |
| BSP | 15 |
| Others | 22 |
11: 22
UP: BJP wins election from Muslim dominated Deobandh.
11: 20 Rajiv Shukla, Congress on UP results
We respect the mandate, but development has lost and votebank politics has won
11: 16
Failure of media to spot Uttar Pradesh 'wave election'
In the countless on-the-spot reportage, opinion pieces, endless studio discussions and breathless reporting, there was not even one suggestion that Uttar Pradesh, a state renowned since almost its inception for returning fractured verdicts, is experiencing a Modi wave.
Media's failure to notice one of the biggest-ever mandates ever returned for one party in the history of UP is stark. The saffron unit, which is leading in over 300 seats, is set to even better its (not strictly comparable) tally of 2014 general elections.
In fact, the failure was not so stark three years back when there were enough indications of a Modi wave backed by Acche Din promise. This time, media's failure seems to have stemmed from the fact that journalists were clueless about the political impact of notebandi, believing it to be a regressive step.
11.14
UP a tsunami! At this rate we might as well forget 2019: Omar Abdullah
Former J-K CM Omar Abdullah, prolific on Twitter, let's it rip:
"How the hell did almost all the experts/analysts miss this wave in UP? It's a tsunami not a ripple in a small pond. Criticising the PM will only take us so far. The voter needs to know there is an option available to them that has a clear positive road map. I've said this before & I'll say it again the voter needs to be given an alternative agenda that is based on what we will do better. Punjab, Goa & Manipur would certainly suggest that the BJP isn't unbeatable but strategy needs to shift from criticism to positive alternate. At this rate we might as well forget 2019 & start planning/hoping for 2024.
"In a nutshell there is no leader today with a pan India acceptability who can take on Modi & the BJP in 2019. And the knives are out for @yadavakhilesh."
11: 10
Minister of State in the PMO Jitendra Singh
For the first time, we are seeing people rising above caste in Uttar Pradesh. The voters have moved a step ahead of politicians
11:08 
BJP's UP state chief Kehsav Prasad Maurya, a CM probable in the state, to News18: "The party's national leadership will decide the CM name. I will follow their direction."
11:07 
AAP CM candidate for Goa, Elvis Gomes, currently at third position in Cuncolim, Congress candidate first
AAP candidate Elvis Gomes is currently at the third position in Cuncolim. The AAP had urged voters to choose the new entrant over the Congress, which has deep roots in Goa. The party chose Gomes, a former bureaucrat, as its candidate for the chief minister's post.
10:58 
BJP edges past Congress in Manipur: Trends
In Manipur, counting is underway in 29 of the 60-seat assembly. The BJP, at 13, has nosed ahead of the Congress that is leading in 11 constituencies. The state's three-time chief minister, Okram Ibobi Singh, has won his Thoubal seat, defeating debutant Iron Sharmila.
10:56
Akhilesh Yadav likely to meet UP governor at 2 pm
Uttar Pradesh chief minister Akhilesh Yadav is likely to meet the governor at 2pm to tended his resignation. The BJP is cruising ahead in 295 seats, with the Samajwadi Party-Congress combine leading in just 74 seats.
10: 55
Uttar Pradesh latest trends: BJP leading in Ramnagar (Barabanki) & Ayodhya seats. Ministers Arvind Singh Gope, Tej Narain alias Pawan Pandey trailing.
10: 53
Goa: Chief minister Laxmikant Parsekar trailing by 5,300 votes. He left the counting hall without talking to reporters.
10: 52
Samajwadi Party's Naresh Agarwal concedes defeat in assembly polls in UP, says "we respect people's mandate".
10:50
Latest trends from Uttarakhand: BJP leading in 51 seats and Congress in 15
Latest trends from Uttarakhand: BJP is leading on 51 seats and Congress on 15. Trends suggest a clean sweep for the BJP in Uttarakhand, where the Congress is now in power. State chief minister Harish Rawat is trailing in two seats that he is contesting.
10.45
Latest Trends In Uttar Pradesh:
BJP+: 302
SP+Congress: 71
BSP: 20
10.40
Punjab: Captain Amarinder Singh leading by 26,462 votes from his home constituency (Patiala I)
10. 38
Goa: Independent candidate Govind Gawde wins in Priol.
10. 37
Bundelkhand big challenge for BJP
Bundelkhand — the land of Jhansi ki Rani Lakshmi Bai, Bajirao-Mastani, Maharaj Chhatrasal — is a big challenge for BJP as it has to win more than one seat this time. There is massive excitement and joy amongst people right now in seven districts in Bundelkhand, thanks to the lead that BJP has taken in 17 seats.
Bundelkhand region with seven districts in UP known for its presence in Indian history — a land of ballads and folklores from Jhansi ki Rani to Mastani, the second wife of Bajiro Peshwa, is of immense importance as well as challenging for BJP this time. Though all the four Parliamentary seats of the region are with BJP, there is only one MLA representing the party.
BJP is leading in 17 seats in Bundelkhand region which has total 19 seats. On other two seats it's SP, with BSP nowhere. BJP in its election manifesto has said that if came to power, it would put an end to sand and mining mafia-raj in the region.
In the last assembly election in 2012, BJP had won two seats —  one from Jhansi and the other from Charkhari. Union Minister Uma Bharti was elected from Charkhari, but after she won 2014 General election and became MP from Jhansi, she vacated Charkhari seat, which was won by SP candidate in the by-election. As a result, Ravi Sharma, BJP MLA from Jhansi has been the only face saver for the party — the solitary reaper — in the drought-prone region of UP. However, the exit poll figures mentioned 8-11 seats for BJP.
Jhansi MLA Ravi Sharma tells this correspondent that for the development of Bundelkhand, UP should have BJP government. "Otherwise it's very difficult to work and I know how I worked in the last five years," says Sharma, who has done a lot of development work in Jhansi.
The final figure will show how Bundelkhand benefits from BJP.
10:36
Union minister Ravi Shankar Prasad to News18: 
"I had travelled across UP. I knew the verdict. The people voted for all yojanas for the BJP. Good luck to all the political pundits."
AAP's national ambitions hit by trends
Trends so far have dealt a blow to the Aam Aadmi Party's national ambitions. It is yet to open its account in Goa. In Punjab, where exit polls showed the Arvind-Kejriwal-led party was neck and neck with the Congress, it is placed third, even behind the Akali Dal-BJP combine. If the trends hold, the dismal show could hurt AAP's maiden foray in Gujarat.
10:31
Celebrations break out at UP BJP office, silence at SP office
Overjoyed BJP workers, leaders and supporters hugged each other, broke into brief jigs and raised victory slogans in the BJP office here as counting trends indicated a comfortable victory for the party in the crucial Uttar Pradesh assembly elections on Saturday.
In contrast there was no activity at the ruling Samajwadi Party's office.
The Bharatiya Janata Party office is just across the road of the sprawling Vidhan Sabha building.
BJP workers raised slogans like "Chappa Chappa Bhajpa", "Kahan pade ho chakkar mein, koi nahin hai takkar mein" and "Modi Modi".
Some were also carrying posters of Prime Minister Narendra Modi, who most feel acted as the game changer in BJP.
The imminent victory is set to end the BJP's 14-year exile in the state which the party said has been "ruined" by the BSP and the SP in the last decade.
There was no activity at the ruling Samajwadi Party's office at Vikramaditya Marg, which is located just next to the house of former party chief Mulayam Singh Yadav, with counting trends indicating a drubbing. The sprawling BSP office near the Annexe, the power centre of Uttar Pradesh government, also wore a deserted look.
Congress office at Mall Avenue, which saw limelight return to it after the party entered into alliance with the ruling SP, also was deserted with almost negligible visitors.
10.30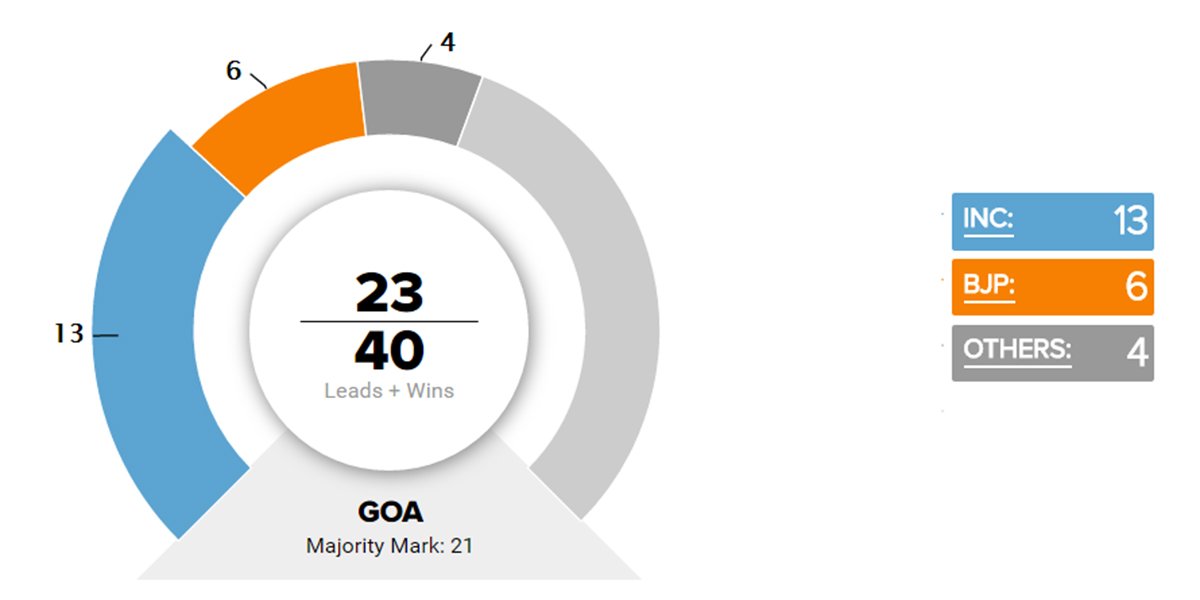 People have rejected SP-Congress alliance: BJP's Yogi Adityanath
The BJP's Yogi Adityanath says: "People have rejected the SP-Congress alliance in a big way, this is a vote for development." The results of the assembly polls would be seen a test for Prime Minister Narendra Modi's policies, including the controversial decision to recall 500- and 1000-rupee banknotes, and boost his chances for a second term in the national elections in 2019. A strong showing by his party will also provide fresh impetus to politically unpalatable but industry-friendly labour and land reforms.
Congress ahead in Punjab, party workers celebrate
The Aam Aadmi Party is trailing behind the Congress and the ruling Akali Dal-BJP combine in Punjab. The Congress is leading in 64 seats. The AAP is leading in 23 seats and the ruling alliance in 31.
Besieged by a string of electoral reverses, the Congress desperately needs a win in Punjab to turn around its national political fortunes. The party's Punjab campaign was based on discrediting the ruling Badal family.
Irom Sharmila loses to Manipur CM Ibobi Singh
Activist Irom Sharmila, making her political debut, has lost to Okram Ibobi Singh, Manipur's three-time chief minister from Thoubal constituency, say TV reports
10:18
Manipur results: Chief minister Okram Ibobi set to win from Thoubal. Leading by 4,000 votes.
10:17
Sangeet Som, accused in Muzaffarnagar riots, leading by 8,359 votes ahead of Congress's Atul Pradhan on Sardhana in Meerut.
 10:16
Goa latest trend: NCP candidate, Churchill Alemao, leading from Benaulim
10: 15
Latest trends from Uttar Pradesh: BJP-274, SP+ 79, BSP-25, Others-12
10: 13 'Rahul Gandhi is good looking, but lacks charisma'
Rahul Gandhi doesn't have charisma. He is a good looking man who speaks very poorly. Balsaheb Thackeray would have fantastic rallies and entertain us with comedy, or someone like Lalu Prasad Yadav for that matter.
You can hire a Chidambaram to do the economics, but the leader has to pull crowds. Part of it is in-built and part of it stems from laziness. Had Modi lost poll after poll, he would have been pulled down. Rahul Gandhi needs to realise that his heart is not in this.
 10:10  Punjab proves exit polls wrong: Cong ahead of AAP : AAP chief Arvind Kejriwal's residence in Delhi decorated ahead of the results. In Punjab, the exit polls, predicted that the Aam Aadmi Party and the Congress would be tied and there would be a hung assembly. The AAP has said that if it doesn't win the elections with a comfortable majority in Punjab, it would not align with other political parties to form the state government.
For now, the exit polls seem to be off the mark. The polls had given AAP and Congress a tie.Leads in Punjab: Cong: 56, AAP 21, SAD: 22, BJP 2, Others 2
10:05
If the UP trends hold its Modi all the way; the Gatbandhan arithmetic defeated by sheer chemistry of PM. #Decision2017

— barkha dutt (@BDUTT) March 11, 2017

10:02
UP: Shivpal Yadav leads by a margin of 5,742 in Jaswant Nagar.
10:00
Punjab results: Navjot Singh Sidhu (Congress) leading from Amritsar East seat.
Congress crosses halfway mark in Punjab
Trends show Congress ahead in 61 seats in Punjab, crosses halfway mark. Leading in 27 seats, Akalis nose ahead of Arvind Kejriwal's AAP (24).
Gurpreet Singh Ghuggi leading in Batala
Gurpreet Singh 'Ghuggi' leading in Batala. Gurpreet Singh Waraich, 45, popularly known as 'Ghuggi', is a graduate and has acted in several movies. He began his career with the Jalandhar Doordarshan.
BJP's Laxmikant Parsekar loses from Mandrem
09:54 
Latest trends from Punjab
Latest trends from Punjab: Congress – 51, SAD+BJP – 27, AAP – 24,Others – 1
09:52 Uttar Pradesh results are setting up ruling Samajwadi Party and Congress alliance for a drubbing. The early leads suggest BJP is likely to get a majority.
UP Election Results 2017
Total Seats
280/403
BJP+
186
SP + Congress
65
BSP
25
Others
4
Awaited
120
09:50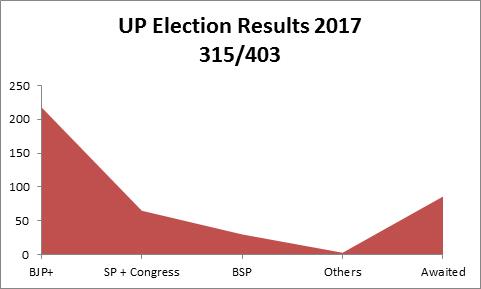 09:45
09:35  IN Goa: CM Parsekar trails, Cong leads :
In Goa, incumbent Chief Minister Laxmikant Parsekar is trailing in Mandrem by over a 1000 votes. Though the BJP leadership has not come out with an official statement on the leadership issue, some senior party leaders said during campaigning that the chief ministerial nominee would be chosen by the elected legislators.
The Congress, the main opposition in the state, has fielded its nominees in 37 seats and backed the candidates of the United Goan, Goa Forward and an Independent in the rest. The outcome will also decide the fate of the alliance between Maharashtrawadi Gomantak Party (MGP), Goa Suraksha Manch (GSM) and the Shiv Sena. The MGP, one of the oldest regional outfits, broke alliance with the BJP before the elections, while the GSM was floated by RSS rebel Subhash Velingkar.
The combine, according to political analysts, could harm the BJP more than the Congress and the NCP. A new entrant to the electoral scene in the coastal state,the AAP has contested in 39 seats and the leaders who campaigned for the party included Delhi Chief Minister Arvind Kejriwal. keenly watched constituencies in the state include Mandrem in North Goa from where Parsekar is seeking re-election and Panaji, which was represented by Parrikar before he moved tothe Centre.
09:30   BJP Leading In 38 Seats In Uttarakhand, Ccongress In 10 Seats, CM Harish Rawat Trailing
09:24  Mulayam's daughter-in-law trails :
Mulayam Singh Yadav's daughter-in-law Aparna Yadav trailing from Lucknow Cantt seat.
Goa CM Laxmikant Parsekar trailing by over 1000 votes, Congress leading from Mandrem.
Chief Minister Harish Rawat leading from Haridwar Rural seat
09:33  AAP's Somnath Bharti on Punjab leads, tells NDTV: "We are new to politics, we don't understand numbers very much. We believe in hard work, hard work for people, hard work in the assembly. I still believe the trends will reverse by 10:30 am.
09:32  Uttarakhand Chief Minister Harish Rawat now trailing from Haridwar Rural seat.
#BREAKING — CNN-News18 calls #UttarPradesh elections in favour of @BJP4India #ResultsWithNews18 pic.twitter.com/YHE0AEYUXy

— News18 (@CNNnews18) March 11, 2017
9: 35 AM: Congress leads by 8 seats in Goa.
9: 35 AM: BJP leads by 45 seats in Uttarakhand.
9: 35 AM: BJP leads by 211 seats in UP.
9: 35 AM: Congress leads by 56 seats in Punjab.
#ResultsWithNDTV | Manipur leads at 9.25 am pic.twitter.com/tVfufW8Mfx

— NDTV (@ndtv) March 11, 2017

9: 32 AM: Congress leads by 8 seats in Goa.
9: 32 AM: BJP leads by 41 seats in Uttarakhand.
9: 30 AM: BJP leads by 196 seats in UP.
9: 30 AM: Congress leads by 45 seats in Punjab.
#Manipur — Leads/Trends at 9:30 AM #ElectionResults
Congress — 5
BJP — 3
Others — 1

— NewsX (@NewsX) March 11, 2017
#LIVEUPDATE Mulayam's daughter-in-law Aparna Yadav trailing from Lucknow Cantt. #UPElection2017 #ElectionResults pic.twitter.com/dGbohv6TVH

— Oneindia.com (@Oneindia) March 11, 2017
Early trends from UP #ResultsWithTimesNow
Live: https://t.co/7RmKS3b6zu pic.twitter.com/hGS7AGBwKk

— TIMES NOW (@TimesNow) March 11, 2017
9: 19 AM: Congress leads by 42 seats in Punjab.
9: 19 AM:  BJP leads by 150 seats in UP.
#ABPResults #Punjab (leads/trends) 49/117
BJP/SAD: 10
CONG: 25
AAP: 14
Others: 0https://t.co/L8ZeIQ6j1P

— ABP News (@abpnewstv) March 11, 2017
9: 17 AM: Congress leads by 6 seats in Goa.
9: 16 AM: BJP leads by 27 seats in Uttarakhand.
9: 09 AM: BJP leads by 112 seats in UP. Congress leads by 32 seats in Punjab.
9: 10 AM: Congress leads by 32 seats in Punjab.
9: 01 AM: Congress and BJP leading on 10 each
Latest trends from Uttarakhand: Congress and BJP leading on 10 each pic.twitter.com/tyhvYpbRDM
— ANI (@ANI_news) March 11, 2017