LIVE: Edappadi Palaniswami passes floor test with voice vote in special session of Tamil Nadu assembly
Chennai, Feb 18:  Palaniswami, the Sasikala loyalist, will need to demonstrate on the floor of the 234-member House, the support of at least half or 117 legislators. He has with him 123 of the ruling AIADMK's 134 MLAs, excluding the Speaker, which is a slim six more than the majority mark.
His chief rival and AIADMK alum, O Panneerselvam, who resigned as Chief Minister last week, has the support of 11 party legislators and has alleged that at least 10 MLAs in the Palaniswami or Sasikala Camp have been secretly in touch with him.
MK Stalin of main opposition party the DMK has said his party will vote against Tamil Nadu Chief Minister E K Palaniswami when he seeks a trust vote today in the state legislature to decide whether he will remain in charge.
Stay With US For LIVE Updates 
15:44  Stable Amma govt established in TN, says Sasikala's camp:  
After Palaniswami's floor test win AIADMK tweeted, "Stable Amma Govt.established in TN.#TNSaved."
"TN CM Thiru. Edapadi K. Palanisamy gets the majority.#TNSaved," another tweet reads.
The Sasikala faction also tweeted this image on its Twitter handle.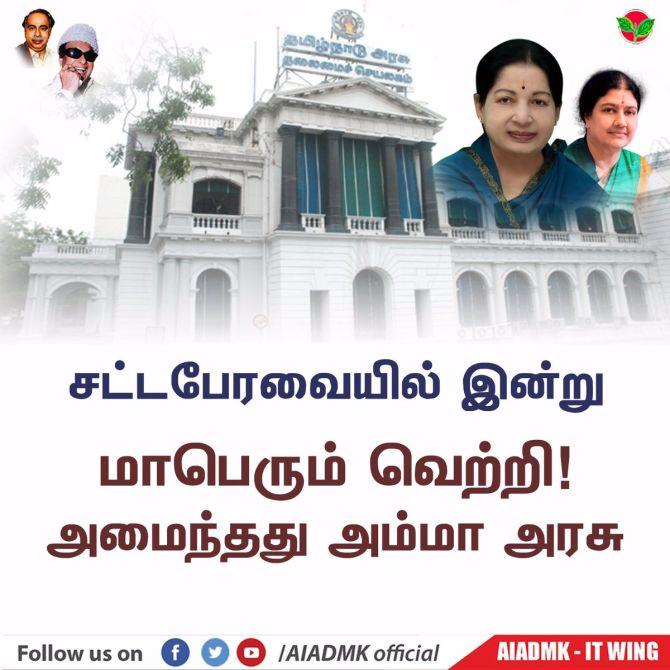 OPS speaks: Justice will win again, I assure you that. We requested the Speaker that MLAs be allowed to listen to the voice of the people and then vote freely at a later date, or, there be a secret ballot at the Assembly today. But Speaker did not listen to us. DMK MLAs were forcibly evicted, they were injured. They were evicted undemocratically. If this vote will be valid or not, people will decide.
15.23pm:
Edappadi Palaniswami passes floor test with voice vote in special session of Tamil Nadu assembly. For 122 : Against: 11
Edappadi  Palaniswami,a loyalist of V K Sasikala wins trust vote, to stay Tamil Nadu chief minister.
As DMK MLAs forcefully evicted from the House and the Congress staged a walkout, the Edappadi Palaniswami government is all set to win the trust vote.
15.24 pm:
Now 74 votes in favour of EPS and 2 against him
MK Stalin reaches Raj Bhavan after being evicted from TN Assembly.
15.17 pm: First division votes: 36 for EPS and 2 against him
15.14 pm: Trust Vote begins in the Assembly without the Opposition MLAs
15.12 pm: DMK MLA TRB Rajaa speaks media:
"We were protesting democratically, but the Speaker refused to listen to our demands."
"We gave Speaker two options, either have a secret ballot now or a vote later when people's voice have reached MLAs. But he refused."
"We did not assault the Speaker, we only asked him to stay back. He tore his shirt himself and put the blame on us."
"MK Stalin apologized to the Speaker for any misbehavior on the part of the DMK, but he did not listen to us."
"The police came into the Assembly corridors. How can they come inside?"
"The marshals and police physically assaulted us, hit us with their boots, tore our shirt and evicted us."
15.08pm: Reports say, Tamil Nadu assembly reconvenes, all DMK MLAs evicted
15. 08 pm: DMK MLAs going to meet the Governor. 
15.02 pm:
DMK working president MK Stalin alleges that 500 marshals attacked the party legislators at 2.30 pm
15.01 pm:
Going to meet the governor and explain what happened, says Stalin
Before he left the TN Assembly, Stalin gets out of his car, comes to media pointing to his torn shirt and addresses the media.
We were told that the assembly will reconvene at 3 pm, but at 2 pm the police came and tried to forcefully evict us.My shirt is also torn, says Stalin
Image of MK Stalin emerging from the Assembly, looking roughed up. He addressed the media saying, "We were all picked up, beaten and thrown out of assembly. Some MLAs have injury."
14:56 pm:
 
Stalin says he was manhandled in the assembly, looks roughed up, addresses the media.
14:54 pm: DMK MLAs Includes Stalin Injured
Stalin emerges from the Assembly with a torn shirt, buttons open.
14.45 pm:
DMK working president MK Stalin evicted from Tamil Nadu assembly, say reports
Reports: More DMK MLAs evicted. TV reports say that MK Stalin has also been evicted. A DMK MLA stepped out of the Assembly to tell the media that they have been forced out even before the Speaker was to come at 3pm. 
DMK MLAs who have been evicted are sitting on the corridors just outside TN Assembly's door and protesting, say reports.
TV reports: 20 DMK MLAs have been evicted by Assembly marshals so far.
Reports: Stalin and other DMK MLAs sit on the floor of the Assembly and conduct dharna
13.53 pm: Chief secretary Girija Vaidyanathan seeks meeting with Speaker Dhanapal
13:50 pm:
Meanwhile, the Golden Bay resort at Koovathur where VK Sasikala had confined the All India Anna Dravida Munneta Kazhagam MLAs has announced its closure, reports Puthiya Thalaimurai TV
13.38pm:
Rapid Action Force troops on standby outside assembly, ready to assist Speaker if DMK MLAs resist eviction again
13.30 pm: BREAKING – Assembly adjourned yet again, till 3pm. 
The Tamil Nadu assembly was adjourned for the second time after marshals unable to evict Dravida Munnetra Kazhgam MLAs.
DMK lawmakers refused to leave the assembly even after Speaker orders their eviction.
The assembly will resume at 3 pm.
After the House was reconvened at 1 pm, the DMK MLAs were expelled by the Speaker for their earlier unruly and violent behaviour. The DMK MLAs protesting this expulsion and are refusing to leave.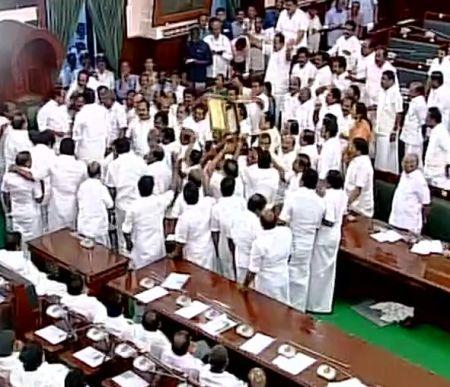 Assembly marshals unable to evict DMK MLAs, they refuse to leave the Assembly even after Speaker orders their eviction.
13.24pm:
DMK MLAs begin protests outside the Assembly after being evicted
Confidence motion moved in TN assembly, after Speaker expels 88 DMK members
13:20 pm:
DMK MLAs carried out of Assembly by marshals. Clash between Assembly marshals and DMK MLAs.
13.17 pm:
DMK MLAs evicted from TN Assembly. Stalin reiterated demand for secret ballot. Chaos ensued again so Speaker ordered eviction of DMK MLAs.
13.15 pm:
Security tightened outside of TN Assembly, About 2000 police personnel deployed into the premises. 
13.10 pm:
Speaker insist on continuing trust voting
13.06 pm: 
Speaker back in the Assembly – "Where do I complain about the harassment that I was subjected to in the house?" Speaker Dhanapalan asks. 
13.03 pm: 
TN Assembly session begins again after being adjourned amidst ruckus. 
Jaya TV visuals show what happened inside the Assembly. Speaker Dhanapal manhandled. 
12.48 pm:
Meeting underway between chief minister Palaniswami and senior ministers.
12.47 pm:
An office attender named Balaji at the TN Assembly carried out of the premises into an ambulance, he had high BP.
An injured official being taken to hospital following massive ruckus in the assembly #floortest #TamilNadu pic.twitter.com/bzBSO1eGaZ

— ANI (@ANI_news) February 18, 2017
12:45 pm:
Assembly proceedings have been temporarily halted following huge uproar. An ambulance has been brought in to the assembly.
12.39 pm: 
Mafoi Pandiarajan alleges after adjournment that he was threatened inside the assembly. "They threatened that they will throw acid on me."
12.30 pm:
It is now clarified that the Division Voting did not even officially begin due to the chaos inside the TN Assembly.
12.15 am: 
TN Assembly session adjourned till 1pm after ruckus created by MLAs. 
Tamil Nadu assembly has adjourned till 1 pm after massive uproar erupted during the trust vote.
According to media reports, DMK MLAs tore papers and threw chairs in the assembly demanding secret ballot.
The speaker was surrounded by members following which he announced the adjournment.
12.14 pm:
 MLAs create a ruckus. One DMK MLA stands on a table to demand secret ballot. Chairs and mics damaged. Speaker walks out. 
12.12 pm: 
Speaker accuses DMK MLAs of creating commotion and not allowing the session to function
12.10 pm
Books and documents torned by DMK MLAs
12.08 am: 
Speaker gheraoed by MLAs of OPS camp and Opposition seeking a secret ballot.
12.05 pm: 
OPS camp and Opposition MLAs raise slogans at the Assembly that they want secret ballot.
12.01 pm:
Media shut down in the TN Assembly 
ANI reports that the audio speaker kept in the Tamil Nadu Assembly Press Room, which is allocated for accredited reporters and cameramen, has been disconnected.
Audio speaker kept in Tamil Nadu assembly press room (allocated for accredited reporters and cameraman) has been disconnected. #floortest pic.twitter.com/hvo2v5ilC7

— ANI (@ANI_news) February 18, 2017
12.oo am:
Uproar continues in Assembly
11.58am: Indian Union Muslim League too demands voting via secret ballot
11.55 am : 'How to Vote Decision is Mine' Says Speaker Dhanapal in assembly.
Dhanapal says members cannot object to his decision, when questioned on the urgency to hold the floor test.
11.50 am: After OPS, Congress demands Secret Ballot
11.47 am: 
The Trust Vote has been going on amidst chaos. Three blocks of MLAs of 38 in each block have voted so far, all in favour of Palaniswami
11. 44 am Demand of the Postponement of floor test rejected.
Echoing Panneerselvam camp's demand, DMK working president MK Stalin has asked for the postponement of the floor test.
"Floor test should be done on another day. Why the hurry when the governor has given 15 days time?' Stalin said in the assembly.
"Democracy will be fulfilled only when secret ballot voting is done," he added.
11.40 am: OPS speaks in Assembly, insists on secret ballot. People didn't elect EPS-Says Ops.
Floor test can happen after getting views from people. The people's voice should echo in the Assembly, says Panneerselvam,
11.38 am: Chaos continues in TN Assembly as Speaker reject's Stalin plea for deferring Trust Vote to another day.
11.34 am: Division vote Halted Temporarily 
11.33 am: The trust vote's second block  hasn't begun yet because of the commotion
11.32 am: Stalin's plea that the trust vote be moved to another day as a secret ballot has been rejected by the Speaker. 
11.30 am: Stalin addresses MLAs, claims only secret ballot will be truly democratic
11.28 am: Jammers all over, mics are off
With the Special Assembly session on, local media rails against the lack of transparency. Jammers all over, mics inside Assembly reportedly have been switched off.
TN Assembly Speaker says adequate protection will be given to all MLAs.
38 votes for Palaniswami In the first Block
11.20 am: 
Voting Begins, Speaker rejected Secret Ballot. Division voting to commence, which means MLAs will stand in batches and their heads will be counted. 
11.19 am: 'We don't care who wins, just want to know how Jaya died'
There are two ways to enter Secretariat, one's the heavily guarded main gate through which ministers and bureaucrats enter and the other gate which common folks use. If you take that scenic route, you get the pulse of the non-politicos, just past the little Ganesha temple that dots the walkway into the main Assembly building.
Almost in tandem with the gathering chaos in the State's politics, junior staffers who dot the Secretariat are more willing to speak to strangers. "We don't care who wins or who loses today.
Anyway, this party won't win the next election. I just want to know what happened to Jayalalithaa. How did she die? Why was only Sasikala allowed to see her and nobody else?", says a security guard who says she owes her job appointment to Jayalalithaa.
11.17 am: Speaker Dhanapal guarantees protection for AIADMK MLAs inside the Assembly
11.16 am: Three MLAs from O Panneerselvam's camp likey to flip
Three MLAs from OPS faction likely to vote for EPS during confidence motion. Their names have not been revealed yet.
Confidence Motion moved by Edappadi Palaniswami has been accepted by speaker. Will it be a secret ballot? Not clear yet. OPS faction, DMK, Congress and IUMl insist on secret ballot in TN Assembly
11. 14 am: MLAs supporting Edappadi Palaniswami are opposing the DMK MLAs. DMK, Congress and IUML ask for a secret ballot.
11.11 am: DMK wants Panneerselvam faction leader to speak in the House
11.10 am: 
WHO IS THE OFFICIAL WHIP OF AIADMK? Stalin proposes that Madhusudhanan-appointed Whip Semmalai should speak, according to TV reports.
Commotion in the assembly as several members get up to seek permission to speak.
Amidst chaos, Edappadi Palaniswami moves confidence motion in the TN Assembly.
11.07 am: High Drama In Assembly
11.05 am: Tamil Nadu Assembly Session Begins
 11.04 am: 
The biggest losers in this TN drama will be unpatriotic DMK, corrupt Congress and Xtian converters which had a secret understanding with OPS

— Subramanian Swamy (@Swamy39) February 18, 2017
11.02 am: 
Reporters resist police's attempt to make them move from area where MLAs will pass through after assembly session. Arguments break out between police officers and photojournalists. TS Anbu IPS present at the spot.
10.58 am: Keep calm even if there are provocations: Palaniswami to his MLAs:  
Reports have stated that the Tamil Nadu CM Palaniswami has ordered his MLAs to remain calm during the trust vote even if there are provocations.
Of the AIADMK's official strength of 134, there are 11 dissidents including former Chief Minister O Panneerselvam.
The DMK and the Congress won't vote in favour of Palaniswami, both parties have said.
Tamil Nadu assembly is going through the motion of a trust vote for the first time in 29 years today to decide the fate of the VK Sasikala faction's AIADMK government headed by Edappadi K Palaniswami.
10.52 am: Governor forwards OPS team's request for a secret ballot to Speaker for consideration
10.50 am: Ten minutes before session begins, here's a quick spot check on the numbers
How many does Palaniswami have, 'officially' 122?. In other words, OPS needs to pull away just 6 more to deny Sasikala a sweet victory. OPS and Co are appealing repeatedly to the AIADMK MLAs' conscience, MLAs who are breaking ranks are also quoting their soul and conscience, but look deeper than what's said for the cameras and you'll find a four letter word that's always decides battles that are ostensibly about principles and conscience. Fear. We must consider the individual circumstances of each of those possible rebels for us to figure if they will vote with OPS or not. Their conscience may tell them voting for Sasikala is wrong but they still might.
Do they have a wedding coming up in the family, is there real estate litigation they may be fighting where they need Dinakaran's help? Does a child in the family need medical college admission and not have enough marks to get in on merit?
If it's not a secret ballot and everyone knows who's knifed them, will they fear for their personal safety? Certainly they will.
Sasikala is from a community known for its rough and ready methods of revenge, often with sickles in hand.
Remember that awesome Sivaji Ganesan-Kamal Haasan starrer Thevar Magan? Dissent is not something these folks take kindly to. That's where Sasikala's vow at Jayalalithaa's memorial came from.
Coimbatore North MLA Arun Kumar, who escaped from the Golden Bay resort and will skip the trust vote, told IANS: "Considering the people's mandate, I decided to abstain from voting and not support chief minister Edapadi Palanisamy. Ideology is more important to me than money and power.
10.48 am: Amma (OPS) vs Chinamma (EPS)
The way the narrative is building up, it is Amma (O Panneerselvam) versus Chinnamma (E Panneerselvam). Both incidentally declared corrupt by the Supreme Court.
With OPS seen as a betrayer by the Sasikala camp, hope his security won't be compromised inside the Assembly. Tamil Nadu House has a history of violence
10.20am: Congress whip and MLA Vijayadharani arrives at assembly.
10.19 am Unprecedented security cover at Fort St George
Less than an hour to go before the trust vote. When was the last time we saw MLAs walking more than the minimum number of steps out from their cars and into the Assembly?
The entire DMK contingent is walking quite a distance to get into the Assembly main gate — today's the day for visuals rarely seen in Tamil Nadu politics near the Secretariat and unprecedented security cover at Fort St George campus.
New chief secretary Girija Vaidyanathan and the State's top officials have planned for this days in advance, so no gaps there.
10:14 am  Shouting slogans against police, DMK members reach assembly:
DMK working president MK Stalin has arrived at the Tamil Nadu assembly campus to participate in the trust vote. The road ahead of Fort is choked with vehicles. The DMK MLAs shout slogans while arriving at the secretariat.
The DMK will not vote for the Palaniswami camp, they had said yesterday. Even the Congress with its eight legislators will not vote for the Palaniswami camp.
The total number of MLAs in the Tamil Nadu assembly is 234. With Jayalalithaa's death it is now 233. AIADMK has 134 MLAs including O Pannerselvam's camp, the DMK has 89, Congress 8, and IUML 1. With the Speaker not voting, the total votes will be 232. Edappadi Palaniswami needs more than 116 votes to prove his majority. In case of a tie, the Speaker's vote will be cast.
09:50 am Congress MLAs will vote against the Palaniswami government:  
TNCC president Su Thirunavukkarasar said that the Congress MLAs will vote against the Edappadi Palaniswami government in line with the DMK's stand.
Earlier, the DMK had also said that they wouldn't vote for the Palaniswami government.
09:00  am Tamil Nadu Chief Minister Edappadi K Palaniswami reaches Secretariat to face floor test
08.52 am: In boost for OPS, 1 Palaniswami-camp MLA boycotts floor test
Tamil Nadu is facing its first floor test in 30 years. After non-stop frenzy since O Panneerselvams Marina revolt, the scene has now shifted to the Assembly where Edappadi K. Palaniswami is seeking a trust vote. The lone IUML member has decided to oppose the motion.
Of the AIADMKs official strength of 134, there are 11 dissidents including former Chief Minister O Panneerselvam. Former Chennai Police Commissioner R Natraj, the AIADMKs Mylapore constituency MLA, decided to throw in his lot with Panneerselvam.
Coimbatore North MLA Arun Kumar by-passes floor test, returns to his constituency. He has also resigned his Coimbatore district secretary post. With his boycott, Edappadi Palaniswami camp has 122 MLAs.
Nonetheless, the AIADMK whip S Rajendiran issued a directive to all party MLAs to attend the Assembly and vote in favour of the motion.