Pop sensation Justin Beiber wraps up concert with his popular track ,tours Mumbai and slums
Mumbai,May11: Justin Bieber wrapped the much-awaited Mumbai concert with a power-packed performance to one of his most popular tracks, Sorry, and with the promise to be back in India. Wednesday's Bieber concert was his debut gig in India, about which the 23-year-old singer made a confession – "Tonight's turning out to be one of the best nights of my life." The pop sensation arrived in India in the dark of Tuesday night and followed a jam-packed schedule throughout the day. He was always spotted with Salman Khan's chief aide Shera, who was in charge of his security in India. Fans also kept a close watch on the star's whereabouts and shared pictures on social media. The Baby singer was truly left impressed with a taste of the Bieber-Fever in India. Meanwhile, here's what he did all day ahead of his concert.
Model Neelam Gill has been chosen for representing Justin Beiber in his tour to amp up the glam quotient.
Neelam Gill has represented internationally acclaimed brands at the runway, modelling for Burberry and Abercrombie & Fitch and also appearing on the cover of Vogue India. In 2013, she made her debut as a model for Burberry at the London Fashion Week, when she was 18. She popularly operates her YouTube channel to address issues like body shaming and depression.
Checked-In, In Style:
 Justin Bieber checked-in at Mumbai's Kalina airport at 1:30 am on Wednesday with Shera helping him navigate the VIP lounge at the airport. Dressed in signature style, Bieber was spotted in a pink hoodie and shorts, holding a bouquet of flowers at the private terminal. Almost immediately, Bieber was welcomed by a cheering crowd waiting outside for a glimpse of the pop sensation. He was driven to St Regis in Lower Parel, in his favourite vehicle, a Rolls Royce, where a customised suite awaited his arrival. Bieber's 100-plus member entourage were stationed in two hotels with the floors occupied by them being off-limits for other guests. Dubai was his last stop before Mumbai.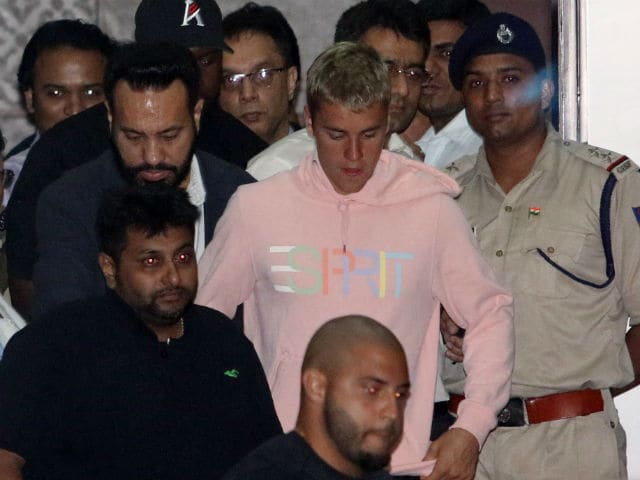 City Tour? Yes. But First, Coffee:
Fans and followers were excited beyond limits to have Bieber in India and made every effort to spot the singer in Mumbai – this lead to Bieber being photographed picking take-out coffee from what looks like a Starbucks outlet in Vashi. This time, the singer was spotted in a yellow tee and shorts.
(11) Another video of Justin Bieber spotted out in India today. (May 10)
(7) Another photo of Justin Bieber spotted out in India today. (May 10)
A Visit To The Slums Of Mumbai, Checked:
Later in the day, Justin Bieber paid a visit to the slums of Mumbai, where he was spotted interacting with the underprivileged children. Fan clubs shared videos and photographs, a glimpse of which shows Bieber going on his knees to interact with the children. He was also spotted waring a garland while shaking hands and high-fiving his little fans inside a bus.
(8) Another photo of Justin Bieber spotted out in India today. (May 10)
(2) Another video of Justin Bieber spotted out in India today. (May 10)
All Over Mumbai Streets:
Sometime in between, Bieber was also spotted being driven around on the streets of Mumbai. He was undeterred by the amount of attention Mumbai had in store for him and enjoyed every bit of it. Unexpected as it is, considering his celeb-status, his car windows were open and he continued to wave at fans on the streets and those who followed.
(4) Another video of Justin Bieber spotted out in India today. (May 10)
(24) More photos of Justin Bieber onstage performing at the #PurposeTour in Mumbai, India. (May 10)
The Justin Bieber concert was hosted by Harry Potter actress Elarica Johnson. The concert began at 4 pm and the climactic gig was preceded by opening acts by Sartek, Zaeden and Alan Walker. The 45,000-strong crowd comprised mostly teenaged 'Beliebers' with Bollywood celebrities like Sridevi, Alia Bhatt, Raveena Tandon, Malaika Arora, Sonali Bendre, Arjun Rampal also being in the audience.
Next stop on Justin Bieber's Purpose Word Tour is Johannesburg, Africa.