Priyanka Chopra's Reliance Jio application form seems to be circulating on Twitter
Mumbai,Sept6:Mere days after Reliance Industries unveiled their new telecom network Jio, a picture of what appears to be actor Priyanka Chopra's subscription form for the service seems to have found its way onto Whatsapp and Twitter. The picture is currently going viral.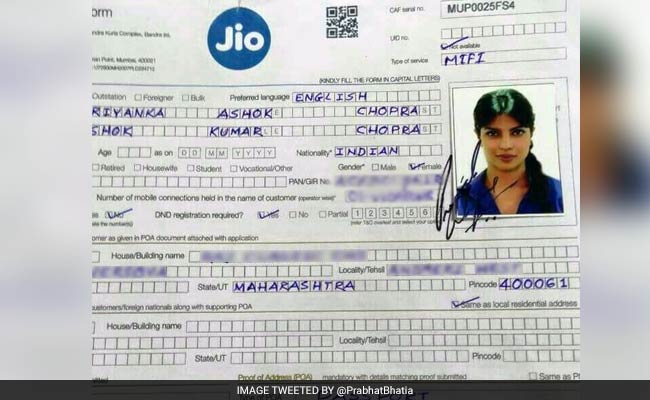 While we cannot verify the veracity of the picture tweeted, the form, complete with a passport-sized photo and Priyanka's signature, has Twitter abuzz. Several users have posted the picture, wondering if it is, in fact, authentic.
Jio was unveiled by Reliance Chairman Mukesh Ambani on September 1. The Bajirao Mastani actor was among several stars who congratulated the Ambanis on Twitter.
Congratulations Nita,Mukesh & the entire team on the launch of #JioDigitalLife. Your vision will be truly transformational for the country.

— PRIYANKA (@priyankachopra) September 2, 2016
Priyanka, 34, hasn't commented on the viral picture yet. She is currently in a different time zone, shooting the second season of her television show Quantico in New York.