Tigers now endangered in India according to IUCN red list 
New Delhi,July15:It is thought India had about 100,000 tigers a century ago. Numbers had plummeted to fewer than 1,500 by the early years of this millennium.
Tigers are now on the International Union for Conservation of Nature (IUCN) red list of endangered animals.
They are found in just 2% of India and encroachment by humans on their habitat – as well as poaching for body parts and trophy hunting – is a key factor in their decline.
Since 2006 conservation efforts have yielded significant results, however. India's tiger population rose from 1,706 to 2,226 during the period 2011-2016.
But conservationists say much more needs to be done.
Theodore Baskaran and other activists want forest officials to cultivate the goodwill of forest dwellers around sanctuaries.
"The digital camera revolution coupled with uncontrolled tourism inside tiger territory is a worrying trend," he said.
"As thousands of camera-toting tourists go closer and closer into their habitat, the big cats get used to human proximity. This helps poachers get close to the animals and kill them."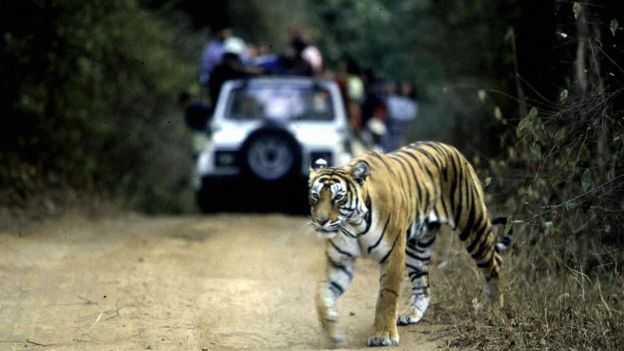 Tigers also face extensive health dangers from diseases such as canine distemper spread by stray dogs from villages close to sanctuaries, scientific studies show.
"The higher number of deaths in the current year so far is also due to natural mortality. Deaths due to poaching and accidents are preventable and those are the ones that worry us," Belinda Wright, executive director of the Wildlife Protection Society of India (WPSI), told the BBC.
According to WPSI records, so far this year 17 tigers died due to infighting and 18 were reported to have been found dead, with cause of death unknown.
The group says 19 tigers died at the hands of poachers. She and other conservation activists are concerned about the growing number of tigers killed by electrocution and and other methods in the human-tiger conflict.
"Tiger numbers have increased, and this in turn will be reflected in the number of natural deaths. While conservation efforts have had an effect there are still improvements needed, which include improved intelligence and enforcement of laws," she says.
Human-tiger conflict poses a huge challenge to conservation efforts. For a tiger to survive it needs about 25,000 acres of forest land.
Shrinking forest leads to scarcity of prey and the tigers are forced to invade villages and hunt cattle on which many local communities depend for their livelihood.
In retaliation tigers are poisoned, killed or captured.