TVF founder-CEO Arunabh Kumar accused of sexually exploiting employee during her two-year stint
New Delhi, March14:The Viral Fever has been known for putting out quality web content over the years. Their Web series Pitchers, Permanent roommates and many more have become popular worldwide.A former employee of  TheViralFever (TVF), has accused founder-CEO Arunabh Kumar of sexually exploiting the girl during her two-year stint at the firm.
An ex-employee of the company has written about her experiences with Arunabh in an anonymous blog titles 'The Indian Uber – That is TVF.'Read her post here-
The alleged victim who calls herself the Indian Fowler after Susan Fowler, the engineer who exposed instances for sexual harassment at Uber on social media last month, detailed the harassment she suffered at TVF "right from Pitchers to Tripling", two of the company's productions released in 2015 and 2016 respectively.
The victim writes that at parties Arunabh would try to lift her or would try and fall on her pretending to be drunk. Referring to a particular incident, she wrote that he once walked out of a meeting and called her to take some notes. "I walk up. He says it's time we do a quickie. I am stunned. And I told him I will go to the police. He said: `Police to meri pocket me hai'."The 22-year-old has alleged that she first met Arunabh at a Mumbai Cafe where he hired her. They then found out that they were from the same town and became good friends.
Within 21 days of her tenure in TVF, the girl noticed his conversations heading to a place she didn't want to go. She has alleged that Arunabh started forcing himself onto her and that she was molested right from the time pitcher came out till Trippling got over.
She also said that she had threatened to take him to the police and he laughed it off. She also approached the other bosses who told her to walk out and some even told her 'Chalta Hai'
The Viral Fever posted their official response to the woman's allegations calling them 'defamatory and ludicrous'. "All the allegations made against TVF and its team in the article are categorically false, baseless and unverified. We take a lot of pride in our team and in making TVF a safe workplace that is equally comfortable for women and men. We will leave no stone unturned to find the author of the article and bring them to severe justice for making such false allegations", they wrote in the comment section of the blog.
The girl had quit the company in 2016 and says that she still gets contacted by their legal team as he had breached her contract.
Soon after the post went viral, two women have come forward backing her claim. In a comment on the original post, Aayushi Agarwal wrote she faced a similar experience at the firm.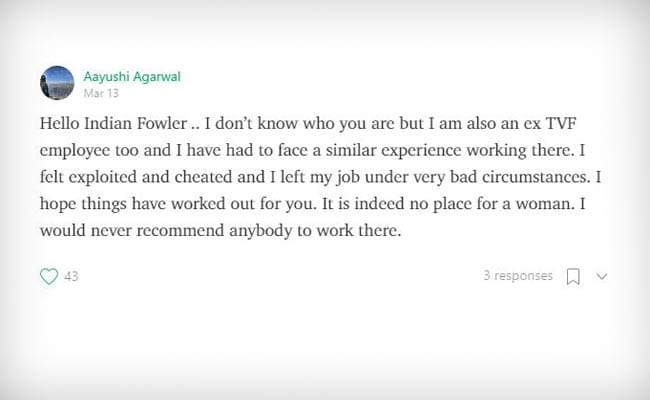 Describing the entire Medium post as slanderous, Kumar says: "I unconditionally and unequivocally deny all these allegations. Social media has already declared me an offender, but I am ready to address all the allegations against me. I am open to receiving a police complaint so that I can respond legally as well.TVF is bigger than me and if there is a remote chance that I have done any wrong, let me be persecuted." But the Medium post is just one of the troubles that Arunabh Kumar now faces. Two more women have since made allegations of having suffered sexual harassment at TVF, one of them by Kumar, who is the largest stake holder at TVF valued at Rs 270 crore.