US sold Pakistan F-16 fighters that are nuclear enabled
Washington,Nov19:A study of Google satellite images and information from other intelligence sources by US nuclear scientists Hans Kristensen and Robert Norris released earlier this week contains startling revelations: contrary to the conditions laid down by the US when it sold Pakistan F-16 fighters, the US jets, along with the Pak air force's French Mirages, are now nuclear-enabled.
Speaking exclusively to DNA, Hans Kristensen, co-author of the 'Nuclear Notebook on Pakistani Nuclear Forces' released November 16 acknowledged that despite the study, US strategic interests in the region will determine further weapons sales to Pakistan.
The US nuclear establishment can but won't initiate further action," the Director of the Nuclear Information Project at the Federation of American Scientists told DNA.
"The F-16s were considered to be the first planes that are nuclear-capable in the Pakistan arsenal and the French mirage was upgraded as well to carry a new air launch cruise missile. But the US made its case. What Pakistan does once they get the planes is inevitably up to them," he said.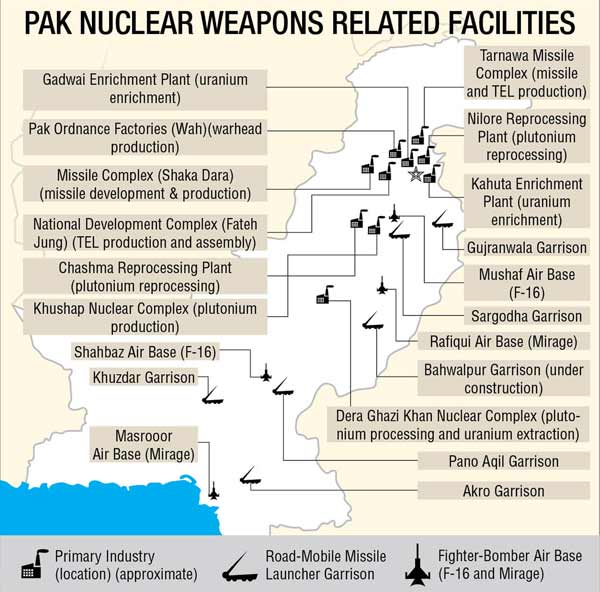 The worry that prevails — as several attacks on Pakistani military establishments have shown — is that its nuclear arsenal could land in the wrong hands: that of Islamist terrorists.
But which of the study's revelations are new, given that there have been many precedents based upon satellite pictures?
"We haven't had a picture of where Pakistan's nuclear-capable forces went for a long time but this study throws up a more focused posturing of Pakistan's nuclear-capable forces and their infrastructure," Kristensen told DNA. "There will be more to come, this is only the beginning."
Kristensen said that while the number and location of Pakistan's nuclear-capable missile bases is not known, an analysis of Google satellite images threw up features to suggest that at least five bases might throw light on Pakistan's emerging nuclear network: army garrisons at Akro, Gujranwala, Khuzdar, Pano Aqil and Sargodha. The scientist speculates that a sixth base at Bawalpur may be under construction while a seventh seems to be coming up near Dera Ghazi Khan. Gujranwala in particular could be of concern to India: this is where the Pakistani Taliban have been active and in the open.
Do these revelations indicate that Pakistan has now reached what is known as a 'full-spectrum nuclear deterrent posture'? Almost, says Kristensen, but warns that it is only a matter of time before Pakistan is fully equipped not only for retaliatory strikes in response to nuclear attacks but also to launch short-range missiles to counter conventional attacks.
The US scientist added that the study of Pakistan's nuclear installations is a routine one and that one of India and other nuclear weapons states will follow.
'Short-range' nuclear strikes are likelier to damage Pakistan than India, but will certainly interest New Delhi's defence, diplomatic and military establishment, since they could be launched if Islamabad merely perceives the threat of an all-out invasion by the Indian military establishment.
Consequently, Kristensen suggested that even quick 'surgical strikes' by India will have to make it 'appear' to Pakistan as though there is no danger of an all-out pan-national aggression of Pakistan by India.