Would IS terrorists from Syria come to Kerala and kill certain dropouts from their camp?
Kochi, October 8: The presence of the ISIS terrorists in Kerala has been proved many times. The latest happening which is known to the media and to the public is the arrest of 6 IS activists from Kannur in Kerala.
Despite the arrest of key operatives of the Kerala module of the Islamic State (IS), its propaganda machinery is still active on social media.
There is no scarcity for jihadi content in the web world. This abundance could give a clear indication that the sleeper cells of the organisation is active.
A Facebook group, which had raised a death threat against Bangladeshi writer Taslima Nasrin.
This too indicates the influence and presence of dreaded Mideast terrorist group Islamic State in Kerala.
The Facebook group was deactivated immediately after certain reports had come out regarding the group.
It had 135 likes before it was deactivated.
This incident raises troubling concerns about whether the terrorist outfit, known for its beheading and sex slavery of captured non-Muslim women, is striking deeper roots in secular India, especially in Kerala.
On July 31, 2016, a woman identified as Yasmin Ahmed was arrested, by a special team of Kerala police, from the Indira Gandhi International Airport in Delhi, when she was about to leave the country for Kabul.
According to reliable sources, Yasmin Ahmed made some revelations before the special investigation team (SIT) of Kerala police that the dreaded terrorist outfit is secretly running classes on Jihadi movement, that is terrorism, in Kerala.
When some of these cases are studied closely, we could find that, most of the educated Kerala youth who went abroad for work or study at least once, were weaned to terror networks.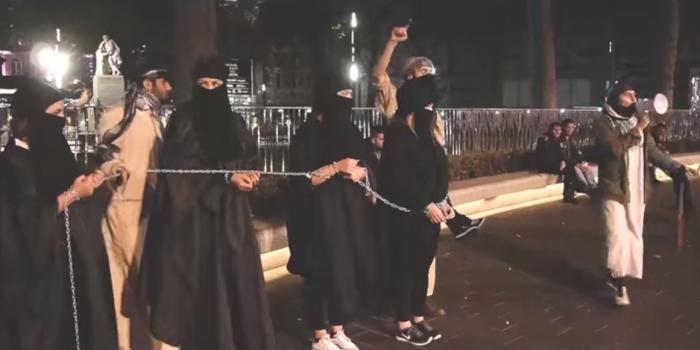 ISIS sex slave auction.
Social media has a very large influence and an important role in indoctrinating them. Intelligence agencies now fear that some members of the now defunct Indian Mujahideen might have joined the IS module.
The arrested 31-year-old Subahani Haja Moideen was intensely trained by the IS's military wing for three months.
If he was not nabbed by the force, he would have been the first "lone wolf" attacker in India, reports
timesofindia.com
.
Before Moideen, West Bengal-based Mohammad Masiuddin, alias Abu Musa, was the only would-be "lone wolf" arrested by Indian agencies. Abu Musa had tried to carry out solo attacks in Srinagar and Kolkata but "successfully failed".
According to top sources in intelligence agencies, Moideen, arrested by the NIA from Tamil Nadu on Wednesday, was a solo operator since he had returned to India during last September.
He was in regular contact with his Islamic State handlers, discussing over the Internet what kind of attack he should carry out.
"He followed all ISIS activities around the world and would study the modus operandi of other lone wolf attackers. He remained unnoticed for a long time because he was operating alone.
It's only a few months ago that his activities came on the notice of police and intelligence. He could have proved very dangerous as he was trained in everything," said an official.
It is only recently that Moideen has decided to join hands with members of the newly formed Kerala module of the IS, according to sources.
Officials said that Moideen has a vast knowledge of computers and was an extensive user of the resources in the Internet for perfect planning.
Meanwhile, counter-terrorism experts take Moideen's return from the ISIS war zone as a good sign. Because, it is another attestation of the fact that
it is not an easy life, for those travelling to IS territory
to fight for the so-called caliphate.
Moideen has told the NIA that "
he couldn't stand so much violence
" and thus he wanted to leave the organisation.
He claimed he had been jailed for 40 days despite a bad knee injury.
Before him, another Indian fighter for the terror organisation, Areeb Majeed, found it difficult to digest the feeling that they were being treated as second- and third-class fighters by the ISIS.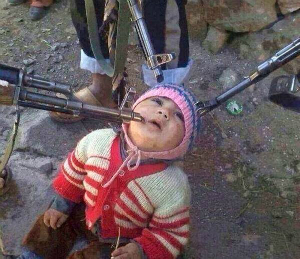 An official said that,
"when any of the recruits try to escape, the IS terrorists would definitely kill them"
.
Here arise a question that, when the recruits return home, would IS leave them just like that?
Wouldn't the returned recruits be followed and killed by the IS terrorists from Syria?
"Their bubble of living in an area ruled according to the Sharia bursts very quickly as there is nothing Islamic about the violent activities of Islamic State.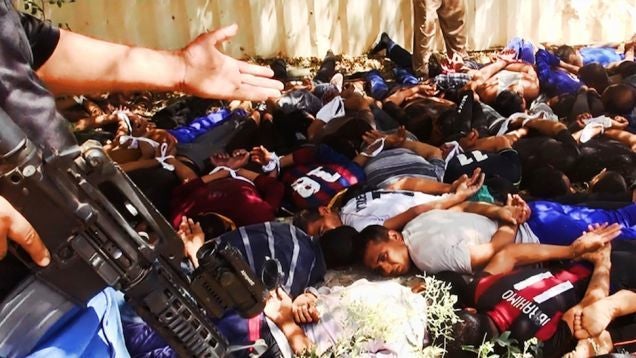 Recruits are punished for even small mistakes, or if they try to defy IS," said a senior government official.
In the past, too, it has been seen that fighters from the UK, US and mainland Europe who left in 2013-14 have returned to their homes utterly dejected because of the manner in which the ISIS had treated them;
they were forced to recite Quranic verses as proof of loyalty and were made to abuse women and made to kill co-fighters even for small infractions.